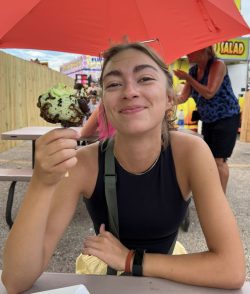 Education & Background:
Genetics and Genomics
Expected graduation May 2025
Research Interests:
I am interested in combining genetics and entomology to study ecological interactions and approach conservation strategies. I am excited to continue learning new lab techniques and working on species delimitation in montane grasshoppers.
Personal Interests:
I love fishing, hiking, printmaking, art, traveling, and playing drums with my band. I am a board member of the Undergraduate Entomological Society and enjoy advocating for insects in agriculture, particularly within the subject of entomophagy!