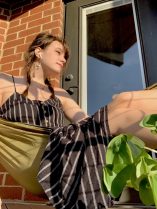 Education & Background:
Biochemistry, Expected graduation May 2023
Research Interests:
I find various insects and chemical processes very exciting. I am fascinated by the evolution of potato beetles and characteristics of insects that have developed by evolutionary necessity. I am also interested in the relationship between human activities and insect population dynamics.
Personal Interests:
I am an artist in my free time, creating art either for fun or for profit. I play tennis, paddle board at the Union, and I take every opportunity nowadays to be in person with friends. I also have an extreme fondness for jellyfish.