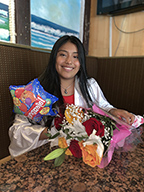 Education & Background:
Genetics and Genomics
Expected graduation May 2023
Awards:
Posse Foundation Full-Tuition Leadership Scholarship
Research Interests:
I am interested in learning about alpine insects and how they evolve. Also, I want to be able to make a discovery that could be beneficial to conserving these insects.
Personal Interests:
I love going out for any type of adventure with friends and family. I love playing sports like volleyball and love watching any sports on TV. Also, I am a NY Posse Scholar from New York City and am excited to meet others.