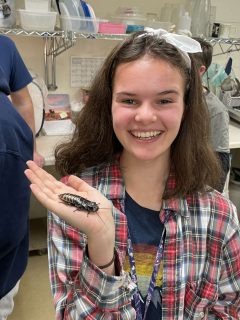 Education & Background:
B.S. in Biology
Expected Graduation May 2026
Graduated from Pewaukee High School in 2022
Research Interests:
I am interested in taxonomy and phylogenetics. Specifically, I am interested in responses to environmental pressures across a wide range of invertebrates, but it has been a lot of fun getting to look specifically at the Nebria genus of beetles. Eventually, I would love to study hydrothermal vent ecosystems.
Personal Interests:
I enjoy video games, playing and writing table-top RPGs for fun, and running. I love the brain exercise that is speculative biology and looking into how life would possibly have formed under conditions dissimilar from what we experience on Earth.