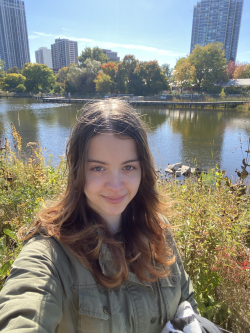 Education & Background:
Molecular Biology, with certificates in Biocore Honors and Environmental Studies
Expected Graduation May 2025
Research Interests:
I am primarily interested in how genetics and the environment influence phenotypic expression in organisms under the broader scope of evolution. I would love to eventually be able to travel and study organisms in the field. My current position involves analyzing genetic variation in ice crawlers to understand their evolutionary history and better inform conservation efforts. I've found this project to be very valuable and enjoyable, as it covers many of my key interests!
Personal Interests:
I really enjoy conducting team research projects in the field, studying and working with fellow biology students, and reading about evolution. In my personal life I like art, music, rollerblading, and hanging out with my dogs.