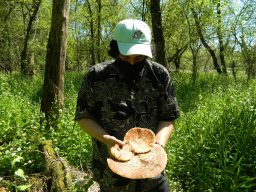 Education & Background:
Botany/Biochemistry, Expected Graduation May 2023
Associate in Science Degree, Madison Area Technical College, May 2021

Awards:
UW Madison Biological Interactions Fellowship 2021
Research Interests:
I enjoy studying microscopic fungi, algae, and bacteria. I am interested in utilizing the compounds they produce for modern applications. I hope my work as a botanist highlights the importance of biodiversity, indigenous language, and plants utilized as medicine, while simultaneously underlining the need to adopt Green-Chemistry and conservation practices.

Personal Interests:
In my photo I am foraging for mushrooms with my sister and have just come across a Dryad's Saddle. I always have a good time hiking the local trails whether or not I find mushrooms. When I'm not hanging out at the park, I am often at home working on illustrations or paintings. I enjoy taking pictures of flowers and then using them as references for my artwork.