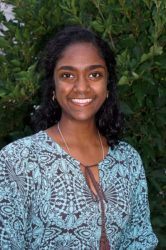 Education & Background:
Microbiology and Economics
Expected Graduation May 2023
Research Interests:
I find the idea that small geological variations can lead to such diverse populations within the same species extremely fascinating. I am excited to explore how such variations lead to genetic differences among the ice crawler species. In the future, I hope to continue genetic sequencing and analysis work, and ultimately help to translate any discoveries into instruments that can help with human ailments.
Personal Interests:
In my free time, I enjoy doing almost any outdoor activity. These activities include gardening, hiking, biking, or even just walking in the park. I also love traveling, baking, dancing Bharatanatyam (a classical Indian dance), and spending time with my friends and family.