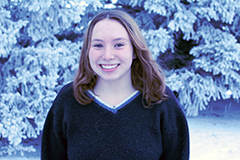 Education & Background:
I will be graduating from Waunakee Community High School in June 2022. I am a part of the Biotechnology Youth Apprenticeship Program, a program run by the Dane County School Consortium and BTC Institute. This program combines biotechnology coursework and work experience to help high school students gain knowledge and experience in a student's field of interest. In addition to the biotechnology courses taken as a part of this two-year program, other science-related courses I have taken include: Principles of Biomedical Science, Physics, Biology, AP Biology, Ecology, and Chemistry.
Research Interests:
I am interested in pursuing a career in a biotechnology or oceanography-related field. I am passionate about understanding the impacts of climate change on organisms and ecosystems more broadly. Through my coursework and lab experience, I am learning more everyday about how connected and intertwined genetics, evolution, and climate change are. These combined areas of science impact our future, from the crops we eat to the quality of water we drink. I am really enjoying learning more about genetics and evolution in one of our most important, yet underrated, organisms.
Personal Interests:
I am a captain on my high school swim team and also enjoy swimming all year round. When I have free time, I usually like to spend it reading or doing some kind of art (photography, pottery, and painting are some of my favorite art forms). I also love to travel and explore new places.