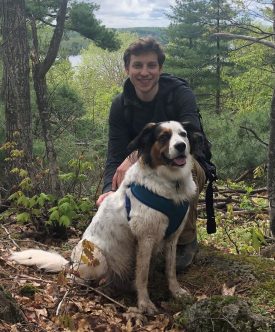 Education & Background:
2022 M.S. Biology; Northern Michigan University
2014 B.S. Environmental Science & Environmental Studies; Rocky Mountain College
Awards and Grants:
2021 & 2022 NMU Biology Department Development Fund Award
2021 Charles C. Spooner Research Grant (NMU)
2020 & 2021 NMU Excellence in Education Research Award
2015 Environmental Science Departmental Award (RMC)
2014 Environmental Studies Departmental Award (RMC)
2013 US Forest Service Research Grant
2013 & 2012 Yellowstone River Research Center Grant
Research Interests:
I am interested in landscape-level ecology and identifying how the environment has influenced evolution across time scales. My interest in landscape genomics brought me to the Molecular Ecology lab, where I am a research technician working on a variety of genomic datasets and research questions. I am also finishing my master's research, where I am studying genotype-environment associations in American pika (Ochotona princeps), particularly searching for variation in selective signals between five distinct lineages and placing unique alleles in the context of Ochotona evolutionary ancestry in Asia. Before pursuing my master's, I worked on a variety of wildlife ecology projects, including spotted owl demography in the Pacific Northwest and endangered seabird conservation on Kauai. I hope to soon pursue my Ph.D. to explore more questions in molecular ecology.
Personal Interests:
I like most activities that I can share with my dog outside, but I especially enjoy backpacking, trail running, birding, mushroom hunting, and XC skiing. I enjoy cooking and have a growing obsession with wild foraging ingredients. I prefer to live near large bodies of water, and the Great Lakes have been an exciting system to explore over the last few years. I also like reading (mostly science and nature related works), listening to podcasts, and attending live music as much as possible.