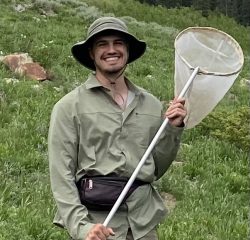 Education & Background:
B.A. in Environmental Biology, DePauw University, Indiana, May 2021
Awards and Grants:
National Science Foundation REP Award 2021-2022
DePauw University Academic Merit Award 2017- 2021
DePauw University Summer Internship Grant 2020
Research Interests:
I am a masters student in the Molecular Ecology lab studying the population dynamics of butterflies in Yosemite National Park and grasshoppers in the Rocky Mountains. I have previously interned at the Butterfly Pavilion in Westminster, CO and have worked on various community science projects. I am a big public outreach advocate and am active on both iNaturalist as well as Facebook insect ID groups. I am currently interested in pursuing further research on insect thermoregulation, population dynamics, social behavior, fire ecology, and effects of climate change. I also enjoy using ArcGIS as well as R and look forward to further developing my statistical and programming knowledge.
Personal Interests:
Because of my interest in community science and insect identification, I often end up spending a few hours learning to ID specific genera of insects because of a mystery photo someone posts (such as Pentatomidae genera). When not looking at bugs in one form or another I enjoy hiking, skiing, playing tennis, board games, and reading (especially sci-fi books). I also do wildlife photography and am enthusiastic about documenting as much biodiversity around me as possible. I love the outdoors and am happy to just walk around and explore.