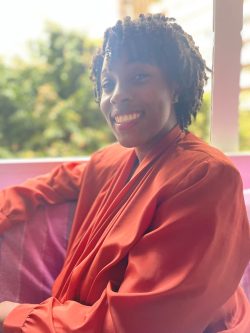 Education & Background:
M.S Student in Entomology, University of Wisconsin-Madison
2021 Certificate in Digital Marketing Specialist
2020 B.S. Entomology & Nematology, University of Florida
2017 A.A Chemistry, Miami Dade College
Awards and Grants:
Ronald E. McNair Scholar
Science and Medicine Graduate Research Scholar
Advanced Opportunity Fellowship
Research Interests:
Why UW-Madison? I believe if you want to understand almost anything in the world, you must comprehend its mental state and its make-up. As such, I am diving into insects' genetics in the Molecular Ecology lab. I want to investigate the impact that human-induced environmental disturbances have on animals' behavior and genetics through the following questions: When does environmental disturbance cause changes in an organisms' phenotype? What genes are associated with the response to disturbance? What are the ecological consequences of this disturbance?
In the Molecular Ecology lab, I am studying the genes that are induced in grasshoppers under heat-stressed conditions. While I highly value research, I also believe it's vital to turn research into digestible knowledge that is easily accessible to many.
Keywords: Evolutionary Conservation, Behavioral Ecology, Outreach, & Science Policy.
Personal Interests:
I grew up in Miami and am the proud product of many cultures. The Afro-Caribbean and Latin cultures of south Florida exposed me to multiple spoken languages, traditions, and customs. On Saturday mornings, my Jamaican father played Reggae music and we ate guava cheese pastries at the local bakery. During the holidays, my friends and I shared and embraced one another's cultures as we sang songs and performed dances reflecting our different backgrounds. Similar to the cultural diversity I observed as a child, I was also struck by the diversity of my natural environment. As a kid, I observed bumbling bumble bees and crept up on crawling caterpillars. Their behaviors reminded me of myself, a curious creature always on the move. It was during this time of my life that I decided to become an entomologist, or as I referred to it, a "bug doctor".
My current hobbies are reminiscences of my childhood. I gravitate towards the arts (painting or ceramic making), inhaling sweets (boba tea and chocolate floral desserts), grounding myself in nature (the beach or hiking), and satisfying my unwavering inquiries (science museums, stargazing, and traveling).