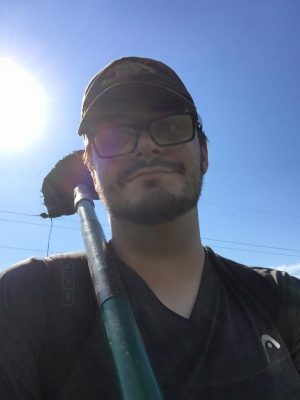 Education & Background:
Ph.D. Student in Integrative Biology, University of Wisconsin-Madison
2018 M.S. in Forest Resources, University of Georgia
2016 B.S. in Biology, University of Puerto Rico – Mayagüez
Awards and Grants:
2020 International Research and Training Grants for Incoming Graduate Students, UW Madison
2017 Soil Ecology Society's Parkinson Travel Award
2016 (spring) Honor Student Intuition Extension, UPRM
2015-2016 Puerto Rico Louis Stokes Alliance for Minority Participation (PR-LSAMP)
Research Interests:
I am broadly interested in biodiversity, from an ecological aspect, to how invasive species impact environments, and how traditional taxonomical work intersects with modern systematics. My interest has propelled me to gain various research experiences as an undergraduate student in Puerto Rico, the US, and Costa Rica. Most of my undergraduate work focusses around two major themes: the ecology of the invasive mealybug Hypogeococcus sp. in Puerto Rican native cacti, and soil macrofauna biodiversity and ecology. While working with soil invertebrates, I was captivated by Charles Darwin's most humble creatures: the earthworms. For my Master's thesis, I studied the diversity of the North American endemic earthworm family Sparganophilidae in the Southeastern Appalachian piedmont. These are semi-aquatic organisms that can be easily found at streams, rivers and lakes shorelines, but with poorly understood ecology and diversity. For my PhD thesis, I am focusing on the biodiversity and evolution of earthworm lineages native to the Caribbean islands.
Personal Interests:
On my free time, I like to read books and, sometimes, poetry. I tend to read from different genera including fiction, Hispanic literature, history, and science. One of my all-time favorite and recent reads is "Braiding Sweetgrass" by Dr. Robin Wall Kimmerer. I am also a Marvel and DC comic books fan, but keeping up has proven to be challenging lately. When possible, I like to participate in Puerto Rican cultural events as it is deeply rooted in me. I enjoy painting and drawing, which comes handy on my taxonomical work. When possible, I try to mix art, culture, language, and science as I believe they are mutually complementary and a clear and effective way to deliver a scientific message to a broader audience. I enjoy hiking and wandering around in the forest. When I am at home, I enjoy a long day at the beach or exploring the interior mountains.